Dansk Medicinhistorisk Årbog 2012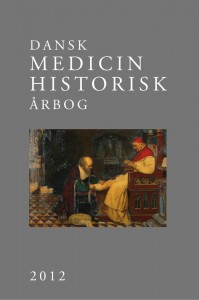 Dansk Medicinhistorisk Årbog udgives i et samarbejde mellem Dansk Medicinsk-historisk Selskab og Medicinhistorisk Selskab for Jylland og Fyn.
Medlemmer af Dansk Medicinsk-historisk Selskab modtager bogen gratis.
---
Dansk Medicinhistorisk Årbog redaktion består af:
Ole Sonne, Århus (ansvarshavende)
Gert Almind, København
Gerda Bonderup, Århus
Claus Fenger, Odense
Søren Hess, Odense
Bernard Jeune, Odense
Anne Dorthe Suderbo, København
Per Vestergaard, Århus
Dansk Medicinhistorisk Årbog 2012
---
Indholdet af 2012 udgaven:
Anders Frøland
Celsus om lægekunst, vivisektion og leveregler for velhavere i kejsertidens Rom.
Liv Rebecca Egelskov
En bølge af sundhedsoplysning. Idealet om et langt liv i det sene 18. århundrede.
Sven Erik Hansen
Eudiometri. Omkring Erik Viborgs præmieafhandling fra 1784 om måling af luftens renhed og sundhed.
Kristina Lenz
Justinianspest. Sygdommen, der ramte Det Byzantinske Rige 541.
Jonathan Falck Stigsby
Lægekunst i danske klostre med udgangspunkt i instrumenter, lægeurter og sygdomsmærkede knogler.
Svend Norn, Henrik Permin, Edith Kruse og Poul R. Kruse
Historien om anæstesiens pionerer og de tidligste narkosemidler.
Dan Kaznelson
Northern Light in White Coats. The Danish Medical Men and the German Occupation 1940 – 1945.
Gert Almind og Jan Lindsten
Nordisk Insulin fond – mindet med medaljer og medaljoner.