DANISH SOCIETY FOR THE HISTORY OF MEDICINE: 100 YEARS OF SERVICE (1917-2017)
http://dmhs1917.dk/wp-content/uploads/2013/12/Poster_DMHS_final.pdf
Poster presented at 26th NMHC in Uppsala, 2 June 2017
---
1874: Lectures about the History of Medicine
In 1874, Julius Petersen (1840-1912), who was a general practitioner, began to give lectures about the History of Medicine at the University of Copenhagen, and in 1876 he released the book Hovedmomenter i den medicinske Lægekunsts historiske Udvikling. This book and Petersen's later works portrayed the interplay between leading figures and ideas in Danish and European medicine, especially from the 16th into the 19th century. The book was translated into German.
1893: Professor in the History of Medicine
In 1893, he became the very first Professor of History of Medicine at the University of Copenhagen. Petersen expressed the hope that his writings on the History of Medicine would help ordinary doctors to search for improvement in the (clinical) practice of medicine. On his 70th birthday eight of his disciples composed a Festschrift.
1907: Anniversary Exhibition of Medical Artifacts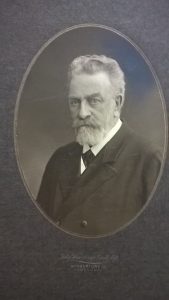 In 1907, at the 50 year Anniversary event of the the Danish Medical Union, an exhibition of medical artifacts was arranged. Carl Julius Salomonsen, Denmark's first bacteriologist, and two of Julius Petersen's disciples were the promoters. They asked members of the medical and related professions to donate artefacts.
After the exhibition, the objects were stored in Salomonsen's Institute of Bacteriology. This was the beginning of the Medical History Museum of the University of Copenhagen (now: Medical Museion), which after many troubles got its present domicile in the old Academy of Surgery in 1946.

1917: The Danish Society for the History of Medicine (DMHS) 
1917 marked a milestone in the Nordic History of Medicine. Sweden has had its Society for quite some time already, while Denmark, Norway, and Finland all formed similar societies this very year.
On Monday 22 October 1917 at 8 PM, DMHS arranged its first meeting of the Medical Society's premises (the Student Association's building). Prof. dr. phil. in archaeology Christian Blinkenberg gave an initial presentation on "Helenekilde in the light of changing times", and Prof. dr. med. in pathology Carl Julius Salomonsen reported on "A typhoid card".
The latter mentioned was – together with Thorvald Madsen – one of the initiators of the creation of Statens Serum Institut (SSI). All interested (with accompanying ladies) were welcomed.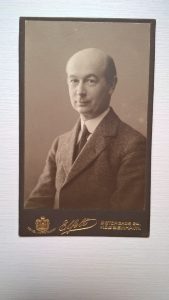 On 10 December 1917, the second meeting was held. Prof. and ear specialist Holger Mygind lectured on the "Pompeian Private House Hygiene". The gathering also included a general meeting, followed by the very first DMHS executive board meeting. V. Maar, H. Ræder, Prof. Salomonsen, and JW Johnsson participated.
Accordingly, Carl Julius Salomonsen, who turned 70 on 6 December 1917, was praised and celebrated as Chairman in a Danish Medical Journal editorial.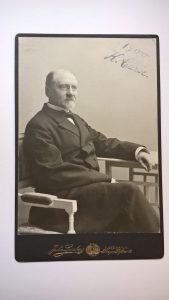 Pharmacist Christian Dannesboe-Andersen (1876-1957, employed at Gammeltorv Pharmacy in Copenhagen), Kristian Carøe (1851-1921, school physician), John William Johnsson (1868-1929, general practitioner), Vilhelm Maar (1871-1940, physiologist and internal physician, professor of history of medicine in 1916), and Hans Ræder (1869-1959, classical scholar, dr. phil.) were the founding fathers of The Danish Society for the History of Medicine (DMHS) with Professor Carl Julius Salomonsen as Chairman.
Its objective was to gather all those interested in the historical aspects of medicine and related sciences, and its raison d'être was to serve as an organisational vehicle for a variety of medical-related topics and studies, and to offer a practical platform for sharing and dissemination of knowledge.
Intermittently, close connections have existed between DMHS, Medical Museion and the Professor in the History of Medicine.
DMHS Activities
Six lectures and excursions have been arranged almost every year consecutively since 1917. Medical Museion in Copenhagen has kindly provided DMHS with facilities and the Auditorium in the old Academy of Surgery for the lectures for many years.
DMHS has supported the edition of numerous books and publications financially, and assisted with distribution.
National and Nordic Collaboration
DMHS wished to collaborate with similar Societies in the other Nordic countries from the very beginning. A Nordic Medical History Congress has been arranged every second year since 1967 − four times in Denmark. In May 2019, we will meet in Copenhagen once again.
In 1971-72, two sister-societies for the History of Medicine were founded in Denmark, for Funen and Jutland respectively. These Societies have ever since co-edited the Dansk Medicinhistorisk Årbog (Danish Medical History Yearbook), indexed by Medline.
A Selection of Outstanding DMHS Chairmen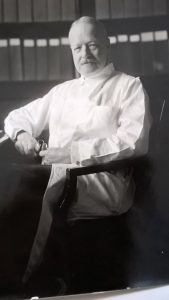 Examples of some outstanding DMHS Chairmen or members of the Executive Board Committee:
Knud Faber and Edvind Gotfredsen, who published general surveys of the History of Medicine in 1919 and 1964, respectively
Vilhelm Maar, who edited some of Niels Steensen's works
Vilhelm Møller-Christensen, who performed extensive archaeological investigations of skeletons from leper cemeteries
Henrik R. Wulff, who discussed medical decision making and medical language in books translated to several languages
Egill Snorrason, who was the DMHS Secretary for many years and an eager medical history writer and communicator

Made by Ulrik Bak Kirk and Sven Erik Hansen
The Danish Society for the History of Medicine