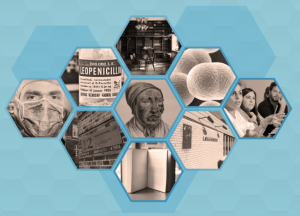 The History of Signs of Death
– Thu 23 May, 11:30 – 13:00

#1 Presenter: Prof. Em. Jørgen Lange Thomsen
Dept. of Forensic Medicine, University of Southern Denmark.
jthomsen@health.sdu.dk
The Cause of Death in Historical Individuals
I have used my knowledge and experience to look into the life and death of historical individuals. It gave me a number of surprises. Alcoholism and syphilis are not at all as prevalent as thought of. In my presentation, I have chosen – among others – to describe my findings in Alexander the Great, Oscar Wilde and Karen Blixen.
#2 Presenter: Dr. Jan Bondeson, MD, MSc, PhD (lic.scient.)
Clinical Senior Lecturer, School of Medicine, Cardiff University, Wales.
bondesonj@cardiff.ac.uk
Buried Alive: The history of the signs of death and the risk of a premature burial
Readers of the tales of Edgar Allan Poe may comfort themselves with the notion that he must have exaggerated: Surely people of the 1800s could not have been at a risk of being buried alive? But such reports filled medical journals as well as popular fiction, and fear among the populace was high.
This talk will describe the medical and folkloristic aspects of the fear of a premature burial: bizarre security coffins with bell-ropes and escape hatches, waiting mortuaries for decaying corpses to ensure death was certain before burial, and the search for an infallible sign of death. And are the present-day stratagems for determining death totally reliable?
---
The Art of Medical Moulages
– Thu 23 May, 11:30 – 13:00
#1 Presenter: Eva Åhrén, PhD
Director, Unit for Medical History and Heritage, Karolinska Institutet, Stockholm, Sweden.
eva.ahren@ki.se

Moulage Collections in the Nordic Countries
In 2016, scholars in the Nordic countries came together, at a Danish initiative, to study moulage collections in dermatological departments, museums, and in private ownership. This paper will describe the results from Finland, Denmark, Norway, and Sweden, and present the contents, history, and current state of the moulage collections.
It will also discuss the cultural, historical particularities and significance of the moulages, focusing on those that are unique and locally manufactured. The research will hopefully generate more scholarship on the subject and increase awareness of the artistic and historical value of these collections.
"Ylppö's children" is a collection of moulages made in Berlin 1918-1920 by artist Annie Müllensiefen for Finnish pediatrician Arvo Ylppö. Eighty of the moulages, depicting a range of transmissible diseases including tuberculosis, syphilis, and poxes affecting infants, survive at the Helsinki University Museum. They have previously been on display in popular exhibitions as well as teaching collections.
Danish artist and Panoptikon director Theodor Edelmann made moulages for the Finsen Institute of Medical Light in Copenhagen in 1900-1930. Nobel Laureate Niels Finsen initiated the making of moulages of patients treated for skin diseases, mostly lupus vulgaris. Today, sixty-seven moulages survive in the collections of the Medical Museion, but the patient records are lost.
The Bergen Leprosy Museum holds thirty-one moulages of patients' faces and limbs. Eighteen of these were donated by German dermatologist Oscar Lassar, and probably made by the mouleur Heinrich Kasten. Leprosy specialists Daniel Cornelius Danielssen and Gerhard Armauer Hansen made Bergen an international center of leprosy research, but nothing is known about their use of moulages.
Stockholm's mothballed Medical History Museum has a collection of more than three hundred moulages in storage. Many of these dermatological and venerological moulages were bought from German mouleurs, e.g. Fritz Kolbow, and used in medical education at Karolinska Institutet and S:t Göran's Hospital. Some were made locally by a Dr. M. Nelken, who collaborated with dermatology professor Johan Almkvist.
Ref: Worm AM, Sinisalo H, Eilertsen G, Åhrén E, Meyer I: Dermatological moulage collections in the Nordic countries. J Eur Acad Dermatol Venereol. 2018 Apr;32(4):570-580.
#2 Presenter: Prof. Dr. Thomas Schnalke
Berlin Museum of Medical History at the Charité, Germany.

Directed Views. Focusing patients and diseases in medical moulages.
From its very beginnings on, medicine has tried very successfully to direct and focus the view of the viewers by its ingenious image worlds: beneath the skin into the depths of a highly functional "body machinery" consisting of organs and tissues, as well as onto the skin to study surfaces and formations especially of typical signs of diseases. The findings have been documented in a large variety of different media and materials – drawn, printed, photographed, scanned and animated with the help of servers and clouds, but also kept in 3D as true dry and wet specimens or as replicas made from plaster, wood, papier mâché, plastics or wax.
In my talk I will focus on the steering of the medical gaze referring to wax models, anatomical and pathological specimens and especially to clinical moulages in former times. This will open a door to a closer inspection of anonymous, normed and highly idealized visualisations of internal body structures in Early Modern Times on the one hand. On the other hand, this will follow the reorientation of the medical viewer's eye deep into the pathological alterations of specific body lesions on a specific patient's skin in the 19th and 20th centuries.
I would like to stress the point that in each clinical moulage the patient's subjectivity, his or her individual personality is undoubtedly ingrained and embedded to a certain degree. Thus, these highly realistic medical wax portraits form a unique source still for teaching medicine in a modern patient-orientated way, but also for discovering and reconstructing the patient in medical history.